If I was to ask anyone, " Is it okay to tell person A they can't do B but Person C can do B?" Everyone would agree its wrong and unfair. But yesterday Prop 8 was passed. So among the cheers for the new generation of hope through President Obama, gay couples will not be allowed to marry. It is with deep regret that the very people who claim the compassion of Jesus' love would spend their money and time to promote hate. Why didn't people focus on what God wrote about the most: love and compassion. I have no other words to express my sadness.
So this Sunday I dragged Mike out to Riverside to do something called Trash the Dress. Theoretically its suppose to be after the wedding to do fun pictures and "trash" your dress. But thanks to Sally I have a random free dress I got from Craigslist. Lets say I have never worn so much make up in my life! To my chagrin, I was told more than a few times I looked like a china doll..sigh...
Here are some of them courtesy of
Conrad Lim
Photography:
Next one is my favorite, it really represents our relationship: hilarity, fun, and a little bit awkward.
So this one I just got from
Erin T Photography.
Is this my normal face? No wonder I get voted most
unapproachable.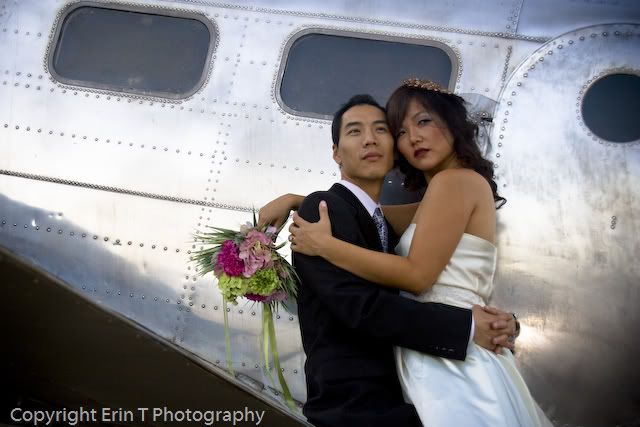 I just realized I have to get wedges for my garden wedding. I hate wedges, I think of cheap massage parlors that have "nice oriental ladies" who can offer happy endings. But i did find one that looks pretty nice, but of course its Betsy Johnson and its about $150
Images found
shoewawa
On the other hand, I am trying to convince myself that Forever21 has corrected their sweatshop issues and I can get these cute dresses for my bridesmaids. I think this would be cute with a light pink wrap or not.
You want to know what is the best part? Its $22.80...sigh...Fair Trade, Smare Trade...
Target (or Taar Geeet) 39.99 Lace match the lace on my dress?
This week was the most depressing morning commute to work. My morning drive has been inundated with news of bank failures. It just makes me want to run and hide all my cash in my mattress (it would all fit in a child's twin maybe even a baby mattress) . When I was listening to the interviews of suddenly unemployed Lehman Brother workers, I had a complete panic attack. I called Mike and told him we should cancel the wedding. In times like these should we be spending $20,000 plus on one day? I was having visions of growing vegetables in my garden, and preparing peanut butter and jelly sandwiches for work. Then my wonderful friend Mark sent me a teaser of our engagement pictures. It made me calm down a little and get a little more excited about getting married. What are other people doing to keep from going crazy in these financial uncertainties? I think we are in the mode of denial, denial and more denial.
This is how we look at each all the time as we exchange love poems.
In reality this is what is happening: Mike, "What do you want to eat ? " Me, "I don't know, how about carne asade fries?"
I have been reading wedding blogs like they were going to give me a definitive answer to some universal question of life and death. When in reality they are mostly about all these details and ideas that would overwhelm Martha Stewart. I came across this photographer who gave away free photography every year to couples on a budget. Sadly, I missed that deadline because we clearly qualify on the budget issue. So I sent him a quick email and asked a bold question about meeting our budget and he actually said yes. Now, I am not sure if this is true for most people, maybe its the Chinese bargaining powers and suspicion in both of us but we immediately thought, "What is wrong with this guy? It seems too good to be true! " So after some careful questions and great responses, we realized he is just giving us a great deal. It is totally serendipity (get it: ? wink wink... refer to our wedding website/theme) He donates a large part of his commission to homeless shelters in Chicago. If that doesn't just turn my social justice heart, I am not sure what will. And to top it off, he speaks mandarin. So drum roll please....
Chennergy Photography
.
Here is a sneak peak of his work, hopefully I am not breaking any copyright stuff...
Not sure what it is about but I am feeling kind of shy talking about the wedding. I know, its a freakin miracle that Maria Chan is at lost for words. I haven't really figured out why or what I am feeling these days. I am thrilled to be marrying my better half but something feels strange talking about the wedding. Part of me feels a little embarrassed, hell maybe its something weird genetic Chinese thing where I feel like I am imposing my will on someone else. I will have to sit on the toilet and think about this dilemma.

I am pretty stoked to be taking engagement pictures this Sunday. I am not sure why people take them, but its one of those go with the flow moments. I know, I should probably be a little more reflective but hey when does a girl get to pretend she is a model. Well I wonder what type of model I could be: super, runway, catalog, import car? hahahaha I don't want to know the answer.
People shouldn't keep things a secret. Nobody mentioned when they were pushing us to buy some land that it comes with hidden costs.. Okay I am being paranoid, its not hidden but unexpected. Water heater: $1700...apparently needs to be changed every ten years. We happen to buy the house that installed it 9 years ago...

Yeah...homeownership...(flat sarcasm)